There are some things I never grew out of: pop up books, doodling on every scrap of paper that crosses my desk, thinking cupcakes are a perfectly reasonable breakfast, the desire to have a zoo in my house and of course, miniature items.
Reasons why I love my job
I spend an absurd amount of time looking at and reading about animals.



I get to develop and perfect a scientific method of producing the teeny figurines with huge detail.





I'm lucky enough to work around my husband and finches.



Trips to the zoo and the beach are considered "research."



It's one of the only jobs in the world where it's normal to say "I need to get more glitter on that horn."
My

minuscule

works of art travel to different parts of the globe, where they're admired by people with varied backgrounds and cultures. That is pretty neat, if you ask me.
These are called POCKET TOTUMS! OMG for real - I need one in every flavor! - And Danielle! How cute is she?! Those are some amazing reason to love her job. I am thinking of doing the same... Going to the zoo for research, of course. I love these little handmade pocket sized little pets that you can take anywhere with you! I think I need one of my dog. Hehe. i just died when I saw these cute little trinkets and I knew you all would love them to bits and pieces! Enjoy!


Copy/paste the code into your blog post!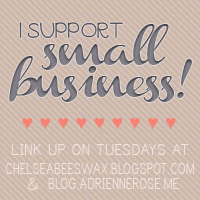 PS. If you're leaving a comment, please tick the box that says "subscribe to replies", that way you get an email when I reply to you! :)