Karen Watkins was born in Indiana and came to Columbus, Ohio to study art at Columbus College of Art and Design. She earned a Bachelor degree in illustration at CCAD in 2002. She now resides in

the Rocky Mountains of Colorado

with her husband

Carl

and cat

Spooky. She displays her art in galleries, boutiques, and in art markets. She has also worked on other freelance projects such as logos for the Westin Inn in Columbus, Ohio and CD album art and more. {source}






My Etsy shop is one of the the ways I sell my work besides galleries (including my husband's and my gallery in Salida, Colorado called "Carl Bork Fine Art Studio Gallery") art markets, and other events. I love that people all over the world can by my art from Etsy. I mostly paint but after I started my Etsy shop I added my needle felted pieces, t-shirts, and my sewing items. {source}
I saw Karen's stuff while looking around on Etsy, and I just KNEW at that very second that I HAD to feature her on Small Business Tuesdays! I love her stuff, it is rather unbearably cute!! And man, if I had a kid, and the spare money, their room would be plastered with her stuff. I love her illustrative take on these wild animals! I also love that she paints on wood. I always loved painting on wood! :) I especially love the owl on the tree ring. Goodness, it just makes me happy deep down inside!
Also, her husband's stuff is magnificent. He takes a more realistic approach to his paintings, but they are beautiful as well. What a creative family! I wouldn't be surprised if their cat had art works of it's own!
You should totally head on over and see her stuff! Find her around the web:
Click here to learn more about Supporting Small businesses!
Copy/paste the code into your blog post!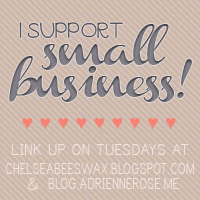 PS. If you're leaving a comment, please tick the box that says "subscribe to replies", that way you get an email when I reply to you! :)