Welcome to the weekly link up hosted by myself and Chelsea Beeswax. We love small businesses and want to show off our favorites that we find! :) Please check out the artist, send some love, or perhaps purchase something! Be sure to create a post of your own featuring your favorite small business and link up!
stay sweet
i am a dweeby twenty-something year old, living in the midwest. i am extremely lucky to spend most of my time drawing and painting. i love exploring abandoned buildings, antique shopping, and iced coffee.
my art is simple. bright colors, clean lines, and happy themes.
I just found Jesiiii's shop not too long ago. I am in LOVE, and I mean IN LOVE with her super cute old-school tattoo-style artworks. And I love that they're on super cute little wooden rounds. They make my little woodland heart pitter-patter! Do you see those super cute stickers?? Yeah, they're wooden too! I just died a little. Too cute. I wish I could buy all her stuff! Especially the camera and travel themed works! *drool*
You've definitely gotta give Jesiiii a visit! You can find her around the web,
I hope she gets a blog soon!
Copy/paste the code into your small business blog post!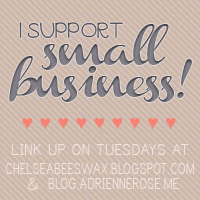 PS. If you're leaving a comment, please tick the box that says "subscribe to replies", that way you get an email when I reply to you! :)