So, I have been scanning around the internet and came across some really great artistic challenges! I am pretty excited to try some of these out! And maybe, since they're somewhat short term challenges, I can ACTUALLY finish them!!
First thing's first. Have you ever heard of the EveryDay Matters (EDM) Challenges? Well basically, Artist -
Karen Winters
, posted a
huge list
of over 300 prompts to get you drawing! They're all about every day objects! Today, I worked on #1 Drawing a Shoe.
There is even a
Facebook Group
and a
Flickr Group
to keep you going and give encouragement! I think this challenge is great to do daily, or weekly (which was it's original intent). I stepped up the challenge for myself - No pencil - which means, no erasing! This is going to be done all in ink and whatever else I desire - But NO erasing. I am pretty excited for this!
The next challenge I present you with is DUN DUN DUN.
An Index Card A Day challenge
, beginning June 1st, and lasting for 61 days until July 31st.
Held over at the
Daisy Yellow
blog, this challenge looks amazing. It is pretty self explanatory - create something on one index card each day for 61 days. It seems great to me! My biggest issue with creating is trying something new on my "good" (also expensive) water color paper. It's so difficult for me, in fear that I've "wasted" my expensive paper.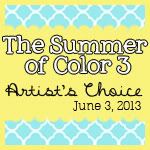 The final challenge I have come across that interests me - though I am not 100% sure on whether I will be participating or not - is:
The Summer of Color
. This is it's third year running and it seems to be very interesting! Every week there will be a color prompt, and you create with that color! Apparently, the skies the limit! I hear there are going to be prizes too! How exciting! This awesome challenge is held over at
Twinkle, Twinkle
- starts on June 3rd and will last for 6 weeks!


I hear: The more you create - the more creative you are. I find this to be so very true for me! Is it true for you?

Have you participated in any art challenges? Which are your favorite? Have you participated in any of the above?
PS. If you're leaving a comment, please tick the box that says "subscribe to replies", that way you get an email when I reply to you! :)