***THIS IS NOT A SPONSORED POST**
Look at all this wonderful goodness to be had here at the beautiful Elf Shoppe, these lovely works are by Julia Yap of Malaysia. Unfortunately I couldn't find Julia anywhere else on the interwebs so her Etsy Shop will just have to do.
I love these simple and beautiful works of art that Julia puts out! I am particularly fond of the silverware and the deers with antlers. I think they're all great though. So simple yet filled with beauty. Be sure to check out Julia's shop,
The Elf Shoppe
. She's currently got a sale going on, buy any two of the same sized prints and get another free! Awesome!
Copy/paste the code into your blog post!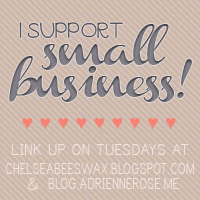 Note
:
Unfortunately, due to lacking participants, Small Business Tuesdays will no longer be a link up starting next week. However as far as I know, Chelsea and I will continue to show off some amazing small businesses that we love!
PS. If you're leaving a comment, please tick the box that says "subscribe to replies", that way you get an email when I reply to you! :)