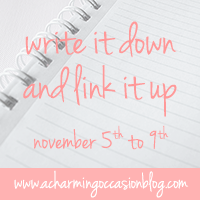 I had to enter this quick link up, because... honestly, like I said... I rarely put pen to paper anymore... And I have all these pretty markers...

So this is what my handwriting looks like. I write in all caps. And, I like it. It's clean. Legible. AND, it looks SO similar to my mother's handwriting. It's like my mom is coming out of my fingertips... (Weird visual??)

I don't know about you, but growing up, I was so anal about my handwriting that I would PRACTICE writing things. Like, when I used to write A's all weird, or numbers, or... When I wanted to change the style...I would spend hours perfecting it... Yup, is my only child showing yet??