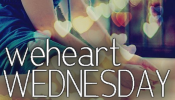 Hey all! Back for another rendition of We Heart Wednesday. If you would like to participate click on the image to the left there, and link up with Brie! :) I love doing WHW's because... I get to go onto
We Heart It
and look at all the lovely inspiration and drool. So anyway. On with it.
This week I am showing you something that I am super excited about, and have been obsessing over since I found out that we were going to :::
OH man. I can barely believe and comprehend that I am actually going to Germany... *sigh* I am so excited!
It's only 10:50am on Friday... So no Project365, yet. :)
-Adrienne