Please go to
THIS POST FOR A GIVEAWAY
that I am hosting! I just added a couple more of CUTE Korean Goodness!
Yay WeHeartIt Wednesday! This week I am loving: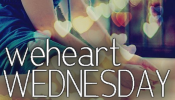 Don't they just make you want a pair? Man... I have been thinking them all darn day! They're so freaking cute!
If you want to join in, head on over to
BrieMarie's
blog! To link up the fun!
Guess what I did today!? I got to meet my Bloggy BFF,
Megan @ The Evolution of Peacocks
, IN REAL LIFE! It was awesome!
-Adrienne