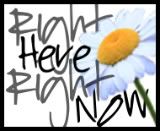 Lookie here! I finally made a blog button, I am pretty proud of it. What do you think?? I am so excited to hopefully see it around the blog-sphere! I made it in a free photo editing program (Almost the same as photoshop) called GIMP. I am proud of it because, I took that picture of that flower!! :) yay. So please, go ahead, I added an easy copy-paste feature on the left side bar!! Let me know if you add it!!
1. Thank and link back to who gave you the award.
2. Answer the awesome questions Listed Below
3. Pass it along to
newbie blogs or Blogs that are new to you that you absolutely love...don't forget to share why you picked them!
4. Leave the recipients a note telling them about the award.
Here's who I am passing it on to...
Megan Dub-Yuh
- Well... Because she is (a MilSpouse) here in Korea too, and I think that is awesome. I may never get to meet her in person, but... It is nice to know that there are other bloggers out there who are in the same-ish area as me!!
Misty's Homemade Bricolage
- Because she is my bestie (in real life, even!) and she just started blogging. I really hope that she keeps up with it! Hopefully posts some of her artwork... *HINT HINT*
Here are the questions...I am passing the same questions on to those I nominate for the award.
1) What is the one thing you love treat yourself to ...that you rarely do?
You know... I freaking LOVE Coldstone Creamery Ice Cream... MMMMMM If I could right now, and I literally CAN'T, I would just eat some Coldstone Ice Cream...


2) What Book have you read that has just opened your eyes or touched you deeply?
Hm, I haven't read a book in quite some time, that just made me like... Awe struck or anything. The last book that I read was titled FLIP I cannot remember the author's name right now though. But the other couple of books that stick out in my head are Lord of the Flies (a high school read) and Into the Wild (also another high school read, that was made into a movie! Based on a true story my friends...). Into the Wild was a fantastic book, I recommend it to everyone!


3)
If you were reincarnated as an animal/drink/ice cream flavor, what would it be?
Ice cream. COLDSTONE ---- Cheesecake ice cream with cookie dough and almonds... Best ever.
4) What celebrity do you ever get mistaken for?
Haha. Well... I have never EVER actually been MISTAKEN for a celeb... BUT I have heard some people say that I look SORT OF like Mischa Barton...


5) Where is Waldo?
Being awesome with me in his red and white stripe clothes!
-Adrienne