5 songs you'll listen to the rest of your life:
Queen - Don't Stop Me Now --- I grew up listening to Queen and I don't think that I will ever stop. This song especially is a great one to listen to in the morning when I need a particular UMPH to my day. Which is like, every day.
Actually pretty much anything Queen, I love them. The next song is I Want it All by Queen, of course. It's a great one too. My most favorite song by Queen is Bicycle Race, I would totally rock out to that ALL the time as a kid! The next song is a new one to me, but I really feel like it's a good one that I could listen to for the rest of my life, Like I Roll by Black Stone Cherry. Good stuff. A great feel good life song. And the last, Sorrow by Bad Religion. Soooo good. I wanted to share YouTube videos with you all, but it's really a pain in the ass with the weird laws here in Germany. I really recommend that you look these up though. :)

5 things on your bucket list:
I already have a page for my bucket list, but I will share with you my top 5 I think!
Travel. The biggest one. And specifically to LIVE where I travel. I know that is going to be a difficult one to come by, but I think it's great. I think it might be the ONLY way to travel. Luckily, I am married to an Army man who likes to travel and puts up with me.
Own a house. Possibly even build our own house. I think that would be really amazing. You know, whenever we decide to settle down and live in one spot. Husband says he wants to retire to New Zealand. Whatever, I am down!
Find my calling. This is a really big one for me. I feel like I don't know what I want to be when I grow up. And I realize, I am all grown up. Do I want to do anything? I don't even have a favorite hobby. I go through them faster than my undies. ;)
Have a garden (and take amazing care of it). I want to grow my own healthy food. Although, I might kill a lot of it in the learning process. I don't have the most green thumb...
Visit Sweden and Norway. I already have Finland and Germany crossed off my list. But I want to see the rest of my native heritage countries as well. I hope we can get these knocked out before we leave Germany. I will be so crushed if we dont. Man, we've got to save up more money!
5 celebs you'd love to hang out with for a day:
Uhm, there's not many, however, I did see a video clip of Jennifer Lawrence (spelling?) of her answering questions at the Oscars or whatever, and she seems pretty cool. I'd try hanging out with her.
Mark Wahlberg. I think he might just be a straight up cool guy. That and he is amazing to look at. Haha.
Emma Stone. She is beautiful. And I think she'd be funny in real life. I want to be her bestie.
Zooey Deschanel. Duh. Do I even have to say why? Well, if I do, because she is amazing!
David Boreanaz, because he is beautiful. And if he acts like he does in Bones in real life. *swoon*
5 things you always carry in your purse:
iPhone, wallet, euros, hand sanitizer/lotion (newest purse addition), and pens!
5 books on your reading list:
I really suck at like, planning what I am going to read. I don't think I actually have any books ON my reading list. WAIT, I have a bunch of books downloaded to my iPhone. Let me see here:
All the Game of Thrones books. Yeah, I tried reading the first one and I can't get through the first page for some reason. Maybe someday.
The Hunger Games series. Haven't seen the movie either. LOL.
Technically I think that's over 5 books in total, isn't it? lol
Share the last five pictures on your phone:
So, since I have shared most of the photos on my phone, either on my blog already (yesterday), or have some photos saved for future posts, I will share with you the most recent 5 photos that I haven't shared, or didn't plan to share! Yay!
Found these amazing sunglasses for $6. I bought these, and a black pair.
You know, to me, this was a tiny baby step towards letting myself buy something I actually really liked, that I didn't want to buy at first because I was afraid that it would like, bring some sort of negative attention towards me somehow. You see, there are these floral patterned pants at the PX that I haven't bought, even though they're on super sale... I am afraid of what people would say if I wore them. Mostly because I don't normally wear stuff like that. This also makes me feel slightly like a hypocrite because I always tell people "Who cares what others think?! As long as YOU love it! That's all that matters." But, I have this problem. And now, you guys know.
Husband and puppy sleeping. Husband has been taking a lot of naps and sleeping a lot lately, since his PRK eye surgery. The doc gave him the go-ahead and said it would be good for his eyes. So he's taking full advantage!
Bed head. I rolled with it. And then I was self conscious a little bit, and wore my green beanie all day. haha.
This is actually from today! The sun was shining for like the first time here in about a month, from what I hear! Absolute craziness. It was good stuff. I soaked up a few minutes of it today. But it was pretty cold. But the sun felt amazing on my face.
This was taken at a Geocache location at a cemetery near Ramstein. This was a totally hard geocache. But I will give you a hint. The hiding spot is totally in the photo! ;) Best of luck!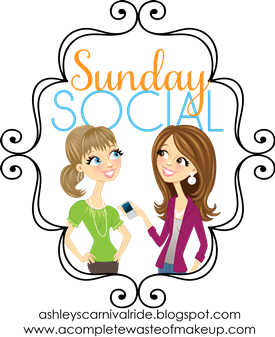 PS!! I've signed up for Twitter. I've had it before